College Football Final Playoff Ranking
On Sunday, December 4th, 2016, the final college football playoff rankings were released. Since the playoffs were created in 2014, college football has been nothing short of spectacular. Unfortunately, only four teams are able to get a shot at a championship. Despite the chances of not making the playoffs being common, it is not unusual for a team to start off with a tough loss early in the season, but come storming back to make the playoffs. This year was not much different, as every single playoff team had their issues at some point.
Only one team remains perfect going into the playoffs; the Alabama Crimson Tide. The Tide are led by red-shirt freshman quarterback, Jalen Hurts, who impressively won the quarterback job over Junior Cooper Bateman during the Spring and off-season practices. Alabama's head coach, Nick Saban, knew that he had a very talented player in Hurts, but he was unsure as to how long it would take for this 18 year old to grasp the reigns of Offensive coordinator Lane Kiffin's pro style offense. To Saban and much of the nation's surprise, it did not take Hurts very long before he created one of the nation's most explosive offenses. To pair with their offense, Alabama also has a stout defense. The defense is punishing and has left its crimson blood on opposing offenses. The defensive line has one of the most highly rated players in the 2017 NFL draft: Defensive end Jonathan Allen. Allen was awarded the Chuck Bednarik award, that is given to the best defensive player of college football, and  is an absolute freak athlete. The Tide look to be the favorites in this playoff, and the rest of the field will have their hands full. They will be facing the Washington Huskies on New Year's day in the Chick-fil-A Peach Bowl, and are favored by a whopping 17 points.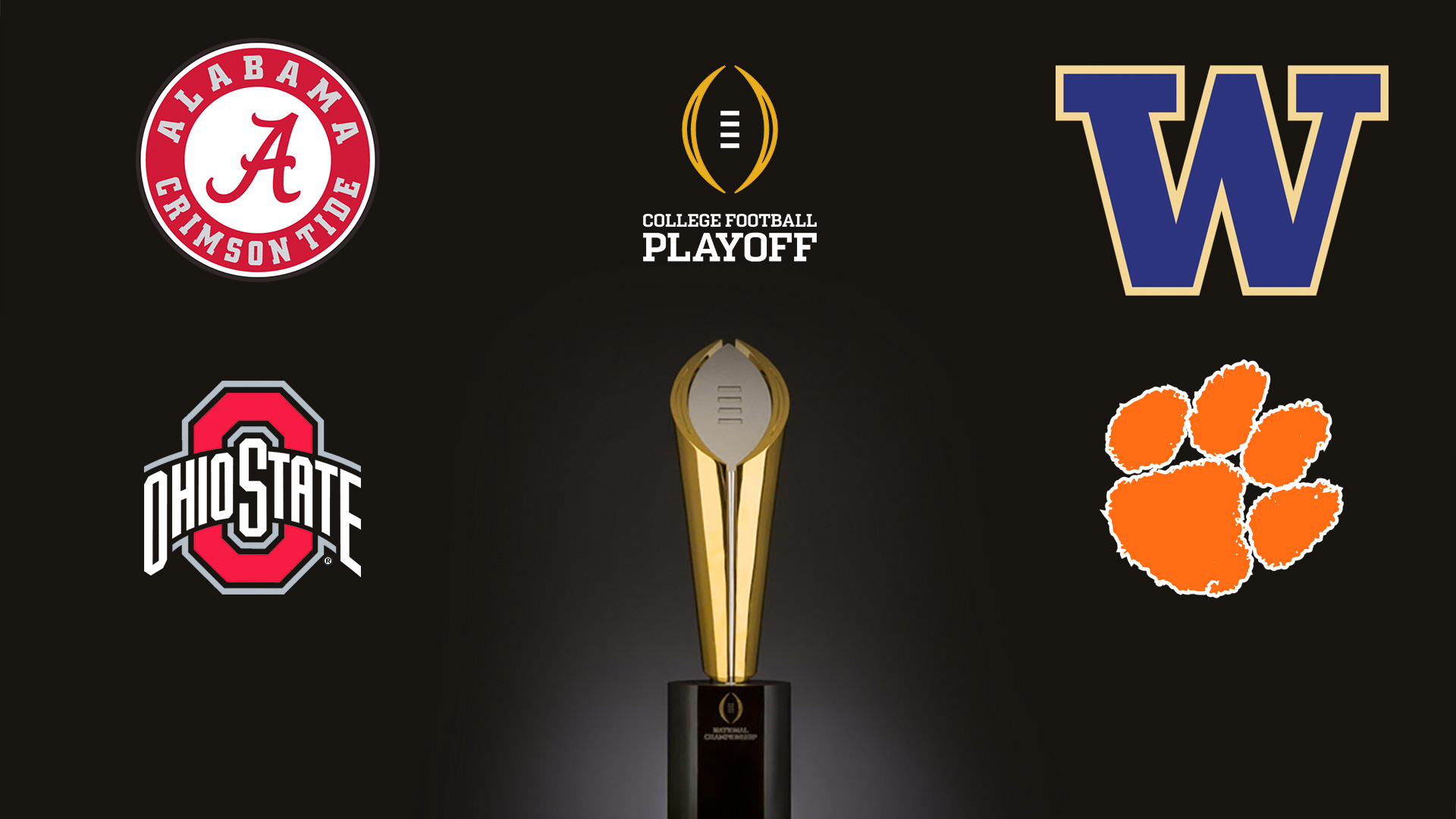 The other three teams in this years playoff are Washington, Clemson and Ohio State. Clemson is led by Heisman finalist quarterback, Deshaun Watson, who has thrown for 3,194 yards and 37 touchdowns. Watson and his teammates are well known by many for their exciting games that go down to the wire. Of the 13 games they've played this season, seven of these games have been decided by ten points or less. Despite all these close games,the tigers won the ACC championship with a record of 13-1 and will be facing Ohio State in the Fiesta Bowl on New Year's Day. Ohio State, on the other hand; is coming off an emotional overtime thriller, against Michigan; where Ohio State running back, Mike Weber won the game with a ten yard scamper for a touchdown, straight into the teeth of the Michigan defense. The buckeyes have showed flashes of greatness this season, but after a blocked 45 yard field goal for a touchdown, in Happy Valley, they fell to the Penn State Nittnany Lions 24-21. Because of that loss to Penn State, Ohio State was held out of the Big Ten championship game, and many people speculate as to whether or not Ohio State was deserving of a playoff spot without a conference championship. The Bucks received the playoff spot and hope that their red-shirt senior quarterback J.T Barrett, and veteran head coach Urban Meyer; who is no stranger to success, can lead them to another championship. Washington is the unknown commodity among-st the teams, and with their weak schedule they've beat up on their mediocre opponents. The only loss they've had this year, came to the USC Trojans who have won seven straight games. They are clearly an underdog, but they do have some talented players such as quarterback Jake Browning and wide receiver John Ross. They also have a pretty solid defense with a "no fly zone" secondary. We will see who comes out on top in January, until then we are only left to wonder…
(Kelley, Kevin. "FINAL PRE-SEASON MEETING OF THE SELECTION COMMITTEE WRAPS UP." Kevin Kelley,
   Fbschedules.com, 14 Aug. 2014, www.fbschedules.com/2014/08/
   college-football-playoff-protocol-released/.)
(Bender, Bill. "Four, six, eight or more? What is the perfect College Football Playoff plan?" 2 Dec.
   2016, www.sportingnews.com/ncaa-football/list/
   college-football-playoff-format-four-teams-expansion-six-eight-possibilities/
   19um8l2ulnsiq14z0u66u6ftcq.)