Centreville Baseball Set for Playoff Run
Following a season in which the Wildcats have quietly become one of the top baseball teams in Northern Virginia, the team is set to start their postseason run later this week. Centreville fans and followers that have been watching the team know that this team has close to unlimited potential, and there is the chance that the Wildcats could be making a deep run into the playoffs.
Centreville finished the regular season with a record of 14-6, which is a solid leap forward following the 11-8 mark in last year's campaign. The Wildcats earned their record by winning four of their first five games, and by ripping off a seven game winning streak over a two week period.
Becoming a powerhouse in the Concorde District, the Wildcats have lost just three conference games all season. Centreville has a season sweep over district rival Oakton, as well as a victory over Lake Braddock (a team that was ranked second in Northern Virginia at the time), and close wins over Madison and Chantilly.
Perhaps the high point of the season, however, came during this season's Spring Break Tournament. Playing in the "DC Baseball Classic", the Wildcats played five games and racked up five wins. In those games, Centreville outscored their opponents 34- 3, never trailed, and capped off the tournament with a combined no-hitter in the finale.
In their upcoming run, the Wildcats will continue to be led on the mound by senior ace Hunter Bell (VCU commit, above). One of the districts most dominant pitchers, Bell has struck out 41 and has allowed just 15 earned runs all season.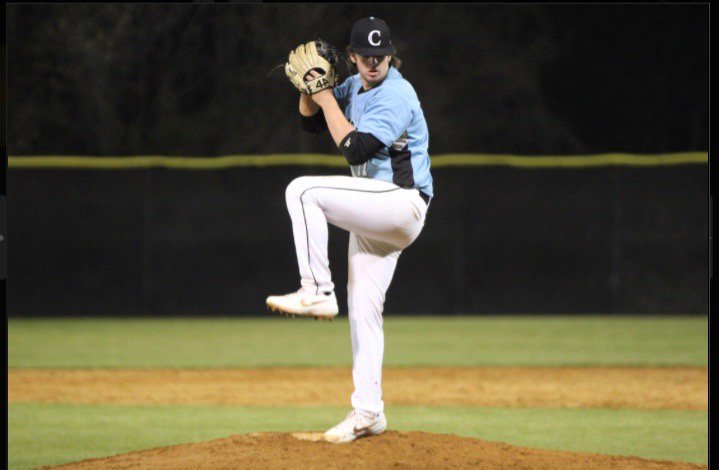 Centreville's deep pitching staff doesn't stop there, as Bell is backed by junior hurlers Eric Bohenek (above) and Colby Shriner. Both have had stellar years on the mound, with Bohenek striking out 29 in just 35 innings and Shriner posting a team best 1.90 ERA. Shriner also earned Second Team All-Concorde honors for his pitching efforts, while Bohenek landed himself on the First-Team for his offensive contributions as a Designated Hitter.
Outfielder Thomas Trinca and third-baseman Gavin Collins, both part of the 2020 class and earning First Team All-Concorde honors, lead the team on the offensive side. Trinca leads the team in both hits and batting average (23 and .478 respectively), while Collins has posted a team high 19 RBI and 16 runs from the lead-off spot.
An extremely well-rounded squad, Centreville has received valuable contributions from all around the field. Center-fielder Lahe Calvo earned himself a spot on the All-Concorde Second team thanks to his .300 AVG and blazing speed on the base paths.
Second baseman Connor Nguyen (above) has established himself as a defensive star, making just one error in 57 total chances. The reliable-gloved senior also leads the team in on-base percentage, which has given the team a very reliable nine-hitter, and his efforts landed him an All-Concorde team honorable mention.
That same honor was given to senior Derek Haynie. The Hofstra committed shortstop is as well-rounded as they come, and is statistically solid in almost every category. Haynie leads the Wildcats in stolen bases.
After a season ending injury to catcher and senior leader Julian Rodriguez during the spring break tournament, sophomore Campbell Charneco has stepped up in a big way behind the plate. First basemen Michael Welliver has had a breakout year and is settling into his new role as the teams two-hitter. Colin McCranie and Ben Cousino have been holding down left field, and have both have provided sparks of energy when in the lineup.
All in all, the Wildcats look to be a dangerous team that is primed and ready to enter the postseason. Opposing teams should not be excited when they see Centreville on the other side of the diamond.